Palladium Russian Ballerina Coins

Perfect Gift for...

Christmas

Birthday

Weddings

Graduation
Baptisms

New Baby

Anniversary

Just Because!
****( Sorry. We do not ship gold or bullion overseas. )

We prefer E-checks or cash on

bullion, and we discount for that!


Cash gets discount. If you use the button, 3.4% will be added.
All button prices include addtional fee for needed shipping insurance.

Prices shown are  for cash payments.

Button will add 3.4% for higher "handling" costs.

Based on spot @ $620.00

****( Sorry. We do not ship gold or bullion overseas. )

Coin Specifications

Palladium Content

1 oz.
Purity



   .999
Face Value


  25 Roubles
Series



  Ballerina
Year of Issue

1989 to 1995
The Russia Ballerina 1oz Palladium Coin was struck by the Moscow Mint and belongs to the Ballerina series of palladium bullion coins.

Each .999 fine palladium coin contains 1 troy ounce (31.1035 grams) of palladium and is legal tender with a face value of 25 Roubles.

Half ounce are half of shown amount, but still .999 fine, and only 10 Roubles.




1991
1/2 ounce Palladium coin  .999

10 Rouble.......*CASH $368.00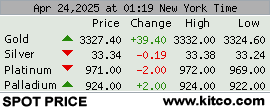 Hit refresh button on your browser to refresh chart.

C and G  inv      9822 Buckingham Lane  Berlin, MD 21811    Cande & Greg White

Maryland's Largest Coin & Bullion Dealer!

( Well, Berlin's anyway. )

We accept VISA/MC, personal checks, cashier's checks, money orders, cash and PayPal.

All prices subject to change. Special order items ( dated, engraved, sized, custom) are not returnable.

Bullion items are only returnable at market value.  No credit cards on bullion items.

Most items in stock and ready to ship, except for Special Order items.

Large, bulky, or heavy items may require extra postage. See
order options
link to view our minimal shipping charges. E-mail any questions.                         










Thank You
,
Cande & Greg
NOTE:

If any page does not look right or load fully, your viewer may require you to click on "Reload" or to update your browser.

C and G  Coins



Phone 410-641-0023


Celebrating business Since 1972.