Hit refresh button on your browser to refresh chart.




C and G  inv      9822 Buckingham Lane  Berlin, MD 21811    Cande & Greg White

Maryland's Largest Coin & Bullion Dealer!

( Well, Berlin's anyway. )

We accept VISA/MC, personal checks, cashier's checks, money orders, cash and PayPal.

All prices subject to change. Special order items ( dated, engraved, sized, custom) are not returnable.

Bullion items are only returnable at market value.  No credit cards on bullion items.

Most items in stock and ready to ship, except for Special Order items.

Large, bulky, or heavy items may require extra postage. See
order options
link to view our minimal shipping charges. E-mail any questions.                         










Thank You
,
Cande & Greg
NOTE:

If any page does not look right or load fully, your viewer may require you to click on "Reload" or to update your browser.

C and G  Coins



Phone 410-641-0023
Celebrating business Since 1972.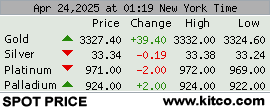 Prior to 1964, many coins that circulated were made from silver, with 90% of the coin weight pure silver.

You can purchase these in small quantities here. A $1000 face bag has about 715 ounces of silver. See below for the math computation on these bags.  Very low margins, a good way to save silver.

Please call or email for larger options. Prices are subject to hourly changes, and may require extra shipping charges.  SEE BELOW

All  coins are in average, circulated condition, just like they were when pulled from change. Discounts for cash. 

Order with confidence.
90% Silver Coin Bags....Silver is on the move!!


If spot is higher or lower than the based price, you will get credit or owe more, for the difference.


That is fair to both of us.
Order Now

Immediate Shipping

Basis for prices was Bid
$19.00     
Ask
$19.15 
Spot
THE MATH ON THESE.....

Figure out what you get.

If there are 715 ounces (and there are over that) in a thousand dollar face bag, then the full silver melt value is:

Spot silver x 715 ounces = silver value.

So, if silver is $19.00, then.......

$19.00 x 715 = $13,585.00 in silver melt value alone!

Then, factor in what you want to for coin value.

We will make every attempt to fill as requested, but often we are out of one or the other types.

CASH PRICES SHOWN

Buttons will add for PP/Ins

90% Silver Bag - $10 face value

Quarters (40 pieces)

Half Dollars (20 pieces)

Coins will be Good to Uncirculated Condition

If you don't see what you like, contact me.

.......... $219.90

Button price  adds 4%

=======================================

90% Silver Roll - $10 face value

Uncirculated Kennedy  Halves

......................................... $251.90

Button price  adds 4%